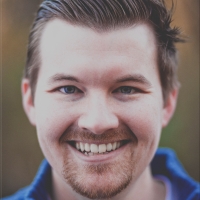 Paul Tosch, Minister of Music
Email: info@edgewoodbaptistdurham.com
Paul Tosch was brought on as Minister of Music at Edgewood in December of 2014. He has a Master's in Church Music from Lee University in Cleveland, TN, where he spent several years travelling with the Voices of Lee, a world renowned 16-member a cappella troupe, directed by Danny Murray. He served as worship leader and choir director at churches in Cleveland, TN and Detroit, MI, before relocating to North Carolina with his wife, Hannah.
Paul's philosophy for corporate worship is based primarily on two scriptures – Mark 12:30 – "Love the Lord your God with all your heart and with all your soul and with all your mind and with all your strength," and John 4:23 – "Yet a time is coming and has now come when the true worshipers will worship the Father in the Spirit and in truth, for they are the kind of worshipers the Father seeks."